The cost to send a package via Australia Post will be estimated based on the dispatch location for the goods which is setup in the shipping configuration. The customer can then select the desired option and the associated cost will be automatically added to the shopping cart total.
Features
Estimate Shipping - Calculate an estimate for the shipping costs based on the entered delivery location
Ignore Services - specific postage services can be ignored so they are not displayed to the customer
Lowest Cost Option - Only display the lowest cost shipping options to the customer
Multistore Support - Setup different modes on each or your stores
Customer Postage Options
The plugin allows the customer to select postage options associated with Australia Post shipping. These are
Extra Cover Insurance
Signature on Delivery
Email Track Advice
This Australia Post Shipping Plugin codes the information received from Australia Post in an easy to read format, for example:
Australia Post - Regular Post Extra Large Satchel (Calculated Cost)
Australia Post - Regular Post Extra Large Package (Calculated Cost)
A full list of options to ship this particular product are shown below the Shipping Estimate in the shopping cart: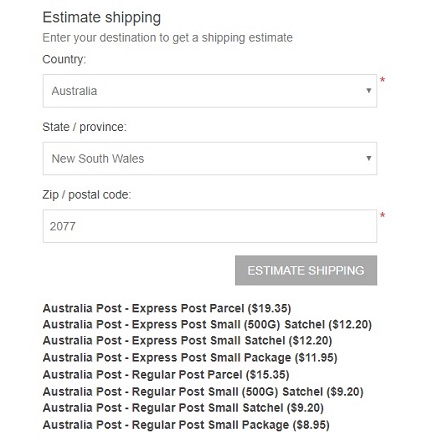 Display Lowest Cost Options
Select this configuration option to display only the lowest cost postage service options for Express and Regular Post simplifying the selection of shipping option by the customer. Using the above example only the following two options will be displayed
Australia Post - Express Post Small Package ($11.95)
Australia Post - Regular Post Small Package ($8.95)
Demo Website
See the Plugin Demo for nopCommerce Version 4.2 - Click Here
See the Plugin Demo for nopCommerce Version 4.1 - Click Here
See the Plugin Demo for nopCommerce Version 4.0 - Click Here
Documentation
The detailed description and installation document can be downloaded - Click Here
Download Plugin
This plugin supports nopCommerce Versions 4.0, 4.1 and 4.2. Other versions available on request.
The plugin package zip file is available immediately after purchase via the download link. The zip file is supplied in a format that can easily be uploaded to the website as a zip using the "Upload plugin or theme" button on the Configuration > Plugins page.
Support
The plugin is provided with 3 months online support for existing functionality. If you encounter any problems or errors please Contact Us and provide information, error logs or screen shots showing the issue.
If you would like to make modifications to the plugin operation or suggest improvements we are always interested. Please Contact Us to discuss your requirements.