This is a custom designed Accommodation Reservation Booking System plugin for the nopCommerce eCommerce Platform. The plugin allows you to easily manage accommodation availabilities, bookings and reservations at a Motel, Hotel or B'nB. It can also be used for camping style facilities where there are a number of non-allocated camping sites available to be booked for any given date range.
Features:
Sales and Management of Accommodation and Reservation Bookings
Sales and Management of Event Type Product Bookings
Extends current Rental Product functionality to include Booking, Stock Management and Reporting
Custom Admin Management Pages, Calendars, Reports and Functions
Quick installation - Ready to upload package provided
Easy configuration - The install sets up sample data which shows the standard configurations
The plugin uses a Calendar to show availabilities and allows the customer to select a range of booking options which can also included predefined Product Attributes.
The system also has custom designed administration pages which display calendar pages to manage the various types of bookings, import and export availabilities, produce PDF reports and allow the export of bookings to eXcel.
The detailed description and installation document can be downloaded - Click Here
See the Plugin Demo for nopCommerce Version 4.3 - Click Here
See the Plugin Demo for nopCommerce Version 4.2 - Click Here
See the Plugin Demo for nopCommerce Version 4.1 - Click Here
See the Plugin Demo for nopCommerce Version 4.0 - Click Here
To access to the Admin Functions Login into the Admin System
Email:

[email protected]


Password: admin
Event Bookings
The plugin also has another mode where it can be used for a range of Event Type Bookings where the Event Start and Finish time can be entered. For example, it could be used for conference bookings, professional appointments, training sessions or other similar engagements allowing you to take bookings for one person or paid registrations of groups of people.
Rental System
Another feature of the plugin extends the current Rental System to include inventory management and reporting, allowing you to keep stock on individual rental products. You can also Mark orders for items as Picked up and Returned in the management calendar.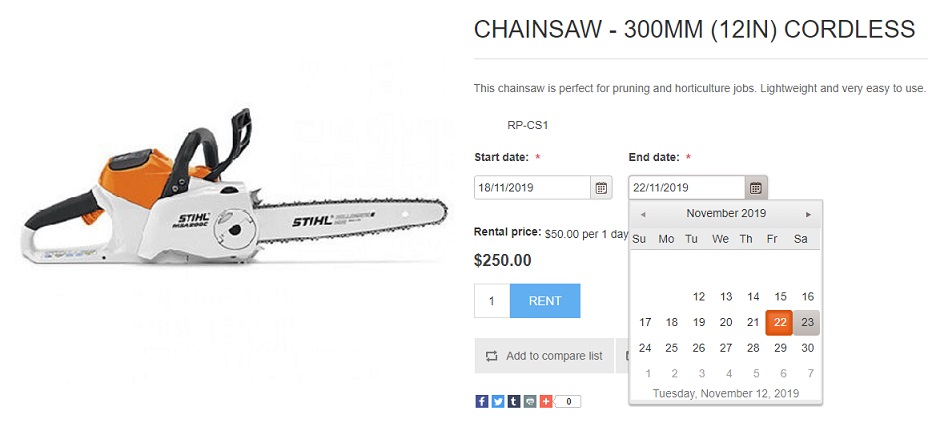 Download Plugin
The plugin is available for nopCommece version 4.3, 4.2, 4.1 and 4.0 - for other versions please contact us for availability. The plugin single use licence enables the purchaser to use this plugin on one website domain. The website domain is to be entered when purchasing this plugin.
The plugin package zip file is available immediately after purchase via the download link. The zip file is supplied in a format that can easily be uploaded to the website as a zip using the "Upload plugin or theme" button on the Configuration > Plugins page.
For information on purchasing a developer's licence, purchasing the source code or if you need to change the registered domain previously entered please Contact Us to discuss your requirements.
Support
The plugin is provided with 3 months online support for existing functionality. If you encounter any problems or errors please Contact Us and provide information, error logs or screen shots showing the issue.
If you would like to make modifications to the plugin operation or suggest improvements we are always interested. Please Contact Us to discuss your requirements.