Bundled Discounts Plug-in for nopCommerce enables the store owner to enhance sales by offering discounts on purchase of additional products along with the one that customer wants to buy. The store owner can create bundle(s) on a product (base product) and set discount amount to be levied on purchase of that bundle. Store owner can add discount for bundles and link additional products to base product in each bundle. Customer will get some discount(as per configured discount) on purchase of that bundle. Customer can view bundle offers on product details page of the base product. Customer can directly add to cart bundle products from product detail page and if some bundle products have attributes then plug-in will show pop-up window for attribute configuration. Plug-in is available in us-english. If you need this plug-in in your own language or if you need more features, you can always write to us.
View plug-in version history and user manual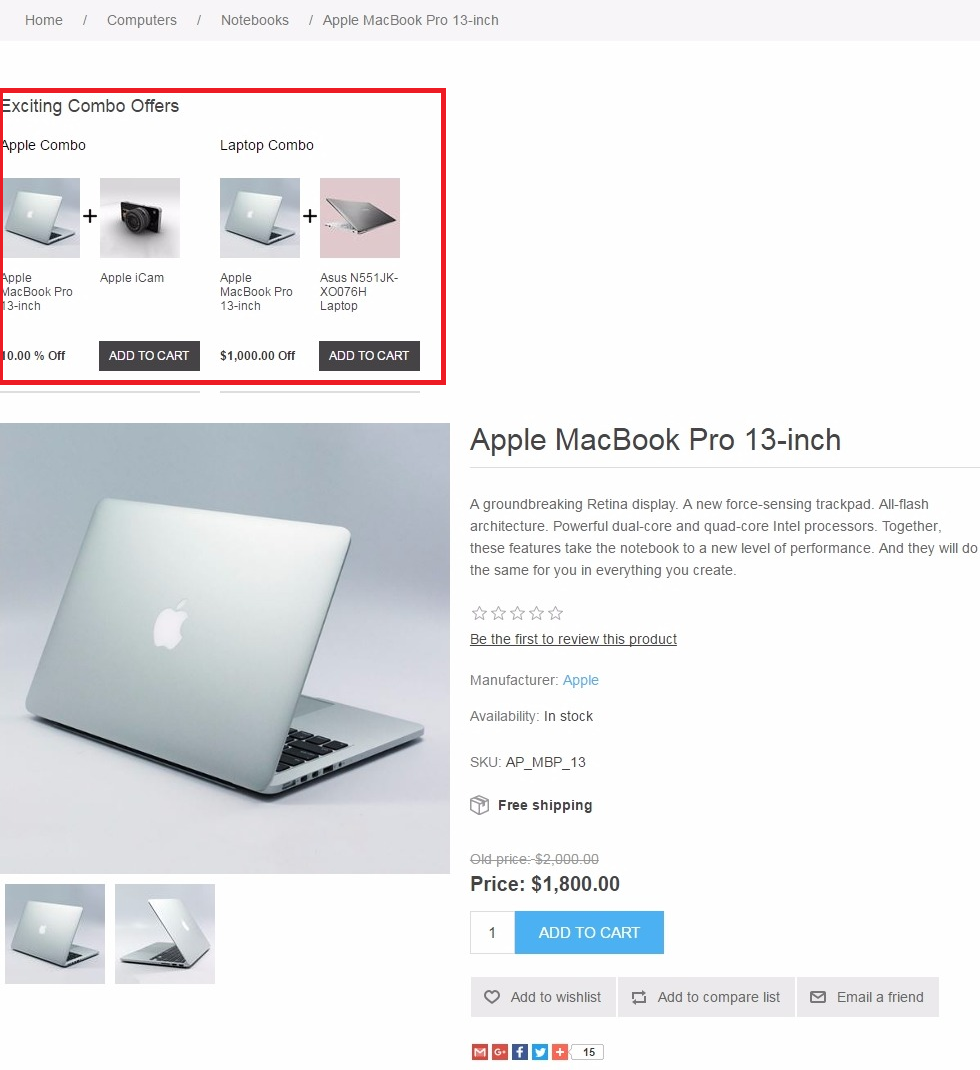 Bundled Discounts plug-in Features
General Features
Enable/Disable plug-in and option to drop related tables when un-installing the plug-in.

Create and manage various bundles and set bundle title as well as bundle name.

Enable/Disable a specific bundle and apply discount on bundle.

Add all products from bundle to cart when adding bundle to cart.

Easy navigation to additional products from bundle.

Auto update/delete of bundle discount on updating/deleting bundled product from the cart.

Discount amount can or cannot be in percentage of bundle subtotal amount.

Position your bundles list on selected widget zone.

Multi-store supported. Multi-currency supported.

Supported nopCommerce versions 3.90 , 4.00 , 4.10 , 4.20, 4.30, 4.40 and 4.50.

Open to enhance Bundled discount plug-in with other features, please suggest.
Installing plug-in
Download plug-in object code and put it at your /plugins folder then follow nopCommerce standard plug-in installation procedure to install plug-in. Bundled discount plug-in is available under "Promotions" group on local plug-ins page. Once plug-in is installed go to your nopCommerce admin panel, and go to Configuration > plug-ins > Local plug-ins > Bundled Discounts. It will ask you to enter your license key, enter license key which you received on your registered email after purchasing this plug-in from our website.
You may need to give read/write permission's to IIS user's on server where you deploy/host your website to install this plug-in.
How to use Bundled Discounts plug-in
After installing this plug-in, you need to configure plug-in from plug-in configuration and add and configure bundles for products that you want to create offer on. Once configured it will automatically display Bundles on product detail page(s). For brief intro on how to configure please look at plug-in configuration help document included with plug-in download folder.