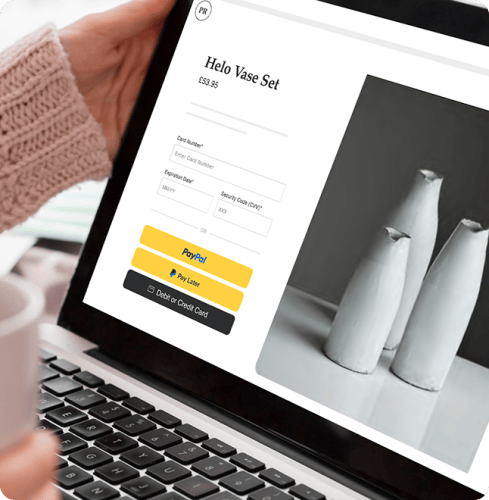 PayPal's brand recognition helps give customers the confidence to buy. PayPal Commerce complements what you already have, comes with PayPal, Venmo, Pay Later, and more, and it's easy to add to your new or existing checkout solution.
30%
higher checkout conversion1.
Let customers pay in installments with Pay in 4 and Pay Monthly2 — while you get paid up front at no extra cost to you. Promoting buy now, pay later messaging on your site at key points of the shopping journey can help boost average order value (AOV)3 and encourage customers to buy more4 — and more often5.
39%
increase in cart sizes when Pay Later options are promoted3.
Venmo (US only) is the go-to payment option for Millennial and Gen Z shoppers in the US. It's part of PayPal Commerce — at no additional cost. Gain appeal to Venmo customers who are active spenders7 with more spending power8.
2x Venmo users spend 2x more9.
Go global. Make it local.
With country-specific payment methods, like Ideal, Sofort and Giropay, you can reach international customers while making your business feel local. Build trust and include options like Payment Upon Invoice (PUI) — a local payment option available only for purchases completed in Germany.
Help grow your international sales by accepting payments in over [200 markets and 100+ currencies] where PayPal is available
Take charge.
Add all major debit and credit cards to your all-in-one solution. It's easy to manage and we handle the processing.
Accept in-person payments.
Accept card, contactless, and mobile payments in your store with PayPal's Zettle point of sale (POS) system. With the tools to seamlessly bring together your online and in-person systems, Zettle can help track inventory, analyze sales, and expand your business.
Learn more: https://www.nopcommerce.com/paypal-zettle-pos
Fewer clicks, less friction
Streamlined checkout helps reduce cart abandonment, drive conversion rates, and encourage repeat business. With PayPal, customers can use their saved billing and shipping info to checkout faster — on any device.
PayPal Fraud detection
Save time and money by letting PayPal help you handle the risk of fraudulent transactions with our fraud, chargeback, and Seller Protection10 capabilities (on eligible transactions). Our AI technology works hard to monitor all of your transactions — so you can focus on what matters most.
Available on eligible purchases. Limits apply11
Installation instructions:
Download the plugin archive.
Go to admin area > configuration > local plugins.
Upload the plugin archive using the "Upload plugin or theme" plugin.
Scroll down through the list of plugins to find the newly installed plugin. And click on the "Install" button to install the plugin.
---